Summary of "Wealthy Affiliate Review"
Wealthy Affiliate is a course that teaches beginners with zero knowledge how to start a WordPress blog from scratch. This course is an all-in-one community. It includes the course, support, all the tools that you would need to host the website and find keywords. The course is geared towards those who are on a budget and have interest in building an affiliate niche website.
Course Provider: Organization
Course Provider Name: Wealthy Affiliate
Pros
Best suited for beginners
All tools included at an affordable price
24/7 Community support + Hands off Web Hosting support
Constantly adding new improvements + features
Lots of training
Cons
Core Training Needs more updates & organization
You can end up getting information from the wrong community member
Technical SEO & Google updates aren't talked about often
You know what? The other Wealthy Affiliate Reviews are right.
Wealthy Affiliate is a scam, cult, and so outdated that its not worth the price.
They want you to think that you can't learn blogging from this all -in-one solution.
Because there are better and more advanced courses out there.
And you know what?
Yes there are more advanced courses out there. And what's even more truthful, is Wealthy Affiliate is not for everyone.
So that no times wasted. This review is not for you if you are an advanced marketer.
Full disclosure here, I'm a real member of Wealthy Affiliate. I've been a paid member for the last 5 years.
Does that mean I've been participating in affiliate marketing the entire time?

No! Instead I've been inconsistent. Too busy with life. Testing out other affiliate programs, and searching for the truth.
There is so much fluff, twisted words, and inconsistency that it's mind boggling. With all this nonsense, they will have you wasting money in places you do not need to.
A Real Wealthy Affiliate Members Review
Disclaimer For A Real User: This Wealthy Affiliate Review written by a person who has paid for the service. Not only did I research it myself. I also used it. You can also find other reviews, opinions, testimonials, along with public records online. The end conclusion I come to is my own judgement. I'm here to give you real user facts. In the end, you'll have to decide if this product or service is for you or not.
As a result of all the drama. And here's a better solution type of attitude.
I've taken a ton of affiliate blogging courses. Spent a lot of money and time. Just to run in complete circles.
But, guess what? The toughest survive.
Most other affiliate marketing program teach the same exact thing.
With a few differences…
They don't start off teaching a beginner.
Instead they start off with advanced tips that are way over your head. Backlink this, No follow that.
Also, the other courses don't always fit your budget, which causes you not to look any further.
And so many more tools needed that you panic.
The blogging world can sometimes be full of drama.
So, in this Wealthy Affiliate review, I'll give you the blunt truth.
And if you don't want the truth, it's okay for you to click away now. There's no need to continue reading this post.

I'm not here to tell you that I a super affiliate, because that's not true.
Have I ever made money with affiliate marketing? Yes, and Wealthy Affiliate is how I learned as a novice.
So, What's my point?
I compared apples with watermelons. There is a difference. Wealthy Affiliate offers you everything under one roof, for one price.
The other guys?
You will invest in a course. Plus all the needed tools.
Oh, and did I mention you will still need to learn all those tools.
Do you know how to use website hosting?
Do you even know how to work with WordPress?
Do you have affiliate marketing knowledge?
Have you made money with a blog?
If so, this place might not be for you.
Are you on a budget? Do you want to learn affiliate marketing as a complete beginner? If so, then this review is for you.
Without further ado, Let's dive in!
What Is Wealthy Affiliate?
Wealthy Affiliate is an all in one affiliate marketing training platform. They have over 2 million members that joined, in the last 18 years.
How many members are active? I don't know.
I do know that it's the largest affiliate marketing community in the world. And you can always get support there.
They provide you with:
Affiliate marketing training that teaches you from the very beginning.
You will get actual step by step action based training.
There is so many ways to get support here
You will have access to website hosting with technical support
You can use their Keyword Research Tool
And much more

All the above comes with your monthly or yearly membership fee.
Having all the tools. Support. And training at your disposal is what will help you make money online easier.
How?
Easy you won't have to worry about paying , that $128/mo fee with Semrush.
Or $99/mo fee for Ahrefs.
Plus website hosting. And whatever else you need to make your training work.
You won't feel as pressured during your learning process. Truth is affiliate marketing is always a learning process.
You will never know everything when it comes to learning, and yes sometimes you will have to invest in other courses.
"A wise man never knows all, only fools know everything."

– African Proverb

With that said, Wealthy Affiliate doesn't teach short cuts.
This could be one of the reasons why some people don't like it. Everyone wants instant results.
Instead, WA believes in building a strong foundation for your online business first.
Meaning their core training doesn't focus on building a business on social media. Or with paid advertising.
Do they teach these things?
Yes but, it is not the main focus. One important thing you must know about affiliate marketing, is that course creators, courses and affiliate programs can go away.
For example, I wrote a review about Blog Simple Framework, which was once one of my WA alternatives. Well, that course is no longer available.
I said that just to say, WA is here to stay.
How Does It Work?
As with any other courses, you will pick a niche (topic for your blog). You don't want the topic to be too narrow and not too board.

After picking a niche. You learn to start a website.
Then you learn how to attract visitors to your website. After that you finally learn to get clicks so that you can earn money.
According to Wealthy Affiliate you can make money in ANY niche.
After taking dozens of courses this is where they differ.
Not all courses think you can do this but, after analyzing several websites and courses.
Wealthy Affiliate might make a valid point.
Because, affiliate programs is not your only option. There are several other options.
Such as local lead generation.
Sponsored Ads.
Sell your own service and or products.
Sell ad space on your blog.
The list can go on and on.
What I'm about to say may seem so kindergarten leveled.
But, the truth is most people that join Wealthy Affiliate.
Do not have the slightest clue in online marketing.
By the way, do you know how to add an image to your blog post?
What about internal and external linking?
If you do not know how to do any of those things.
Then an advanced course may not be for you right now.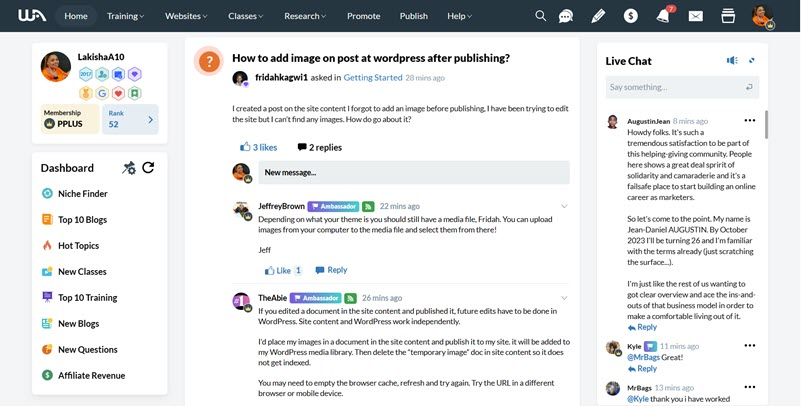 The bottom line is that they're a one-stop shop.
They've created a way for you to get started online, at its lowest price possible.
If you want to create a business using a blog, they provide you with all the tools that you need.
As long as you're willing to put in the effort. Learn as you go. Write content, and drive traffic to make money, this place may be for you.
Who Created Wealthy Affiliate?
Wealthy Affiliate started in 2005. By two college kids. Now successful Canadian affiliate marketers, Kyle Loudon and Carson Lim.

The History Behind Wealthy Affiliate
The Wealthy Affiliate you see today is not the same as it was 18 years ago.
At first, this company was a keyword list membership website.
They offered other internet marketers a list of keywords.
Later that year, after realizing that a ton of internet marketers didn't know how to use keywords so that they could drive traffic, the Wealthy Affiliate forum was added.
In 2007, Wealthy Affiliate developed its own hosting infrastructure. They call it Siterubix.
In 2008, they invested a ton of money to upgrade the web hosting service.
By 2009, they developed their own web hosting network. Website builder. Forum, and keyword list.
And in 2010, when Wealthy Affiliate relaunched the blog, and added live chat.
Advance to today. Wealthy Affiliate has added new features to the community almost every year.
The features that they add make the community a lot easier to navigate and understand. It also helps everyone move forward with their goals.
1. Who Is Wealthy For?
It's no surprise! Wealthy Affiliate isn't for everyone. It's not for advanced marketers you may not enjoy this community.
That's not to say, that there are not advanced marketers in the community.
There is, in fact they will be the ones who share their video expert training to the entire community.
By the way, the expert training is not the same thing as the core training. Expert training comes after you learn the basic techniques.
So, if you join this community don't detour from the path.
Wealthy Affiliate is for beginners or struggling affiliate marketers.
If you have never made a dime online. Or you just don't know what to do. In the image below you can see many new members are requesting help, and they all received it.
This training is for beginners with zero knowledge of online marketing. Or affiliate marketing.
They will teach you how to start a website from scratch.
What's even better the training is like taking you by the hand to show you what to do step by step.
By the way most people start a blog and don't know what to do next. So, then a lot of people start asking the same question. "Do I even need to build a blog?"
It never fails…
Fret not, this community is here to help you build a website. Don't let that scare you away.
Below is one of the first messages that you will see in the community: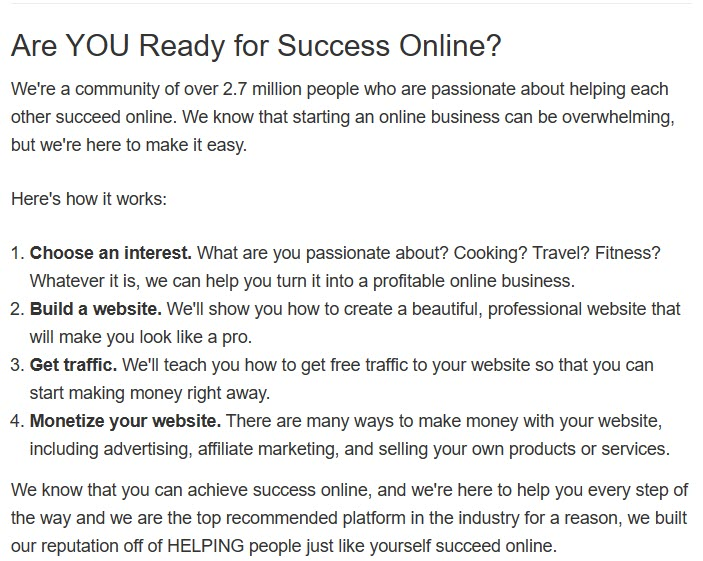 Before, I go any further let me address the image above.
In the image it says they will make it easy.
Well, building a business online does come with challenges.
You have so much to learn because everything is new to you.
My belief is that Wealthy Affiliate is saying. Due to all the tools, support, and training that they provide for your journey helps make it less stressful.
Additionally, point 3 says you will make money right away.
Truth is this is rare. Blogging is not a get rich scheme.
No matter how many backlinks you build. Or what price you pay for a course. No one can give you an exact answer on this subject.
What most course creators are not telling you is that, most websites using SEO techniques can take up to a year to make any type of profitable income.
This also depends on your niche and your competition.
By the way, this does not matter what course you take.
It's based on your marketing skills, your efforts, and your level of knowledge.
To put it as simple as possible. It's a 4 step process.

Wealthy Affiliate Pricing: All In All Starts @ $49/month With All Tools Included

With all tools included, Wealthy Affiliate has three membership levels.
A starter membership costs $0; everyone starts here.
A premium membership costs $49/month, and a premium plus membership costs $99/ month.
To make sure we are both on the same page, I'm not here to push Wealthy Affiliate membership on you.
Instead I'm helping you weed through all the noise.
How Much Does It Cost To Join Wealthy Affiliate? What Is The Difference Between Starter & Premium?
Many people get the impression that you can join Wealthy Affiliate. And remain on the free membership.
The difference between starter membership and premium.
Starter will have limited access.
As you know if you want to build a business online there will always be some type of investment.
Wealthy Affiliate starter memberships is $0 (no credit card needed)
Wealthy Affiliate prem. membership is $49 per month (a payment is needed)
Wealthy Affiliate prem. plus membership is $99 per month ( a payment is also needed)
The only reason why you would join premium is if you think Wealthy Affiliate as a whole is a good fit for you.
2. Wealthy Affiliate Membership Includes Everything From Course To Tools.
If you've heard of the "Wealthy Affiliate program."
Then you might have noticed many people refer to it as the "Wealthy Affiliate Training." These are both the same terms.
What most people fail to mention is that it's more than training material.
I'll go into more detail covering Wealthy Affiliate pricing.
Then we will discuss exactly what you get for your money.
Are you still with me? I hope so!
Let's keep going!
Is Wealthy Affiliate Free?
No, not exactly! I don't want to mislead you. Starting a successful affiliate website and make money online with it. Will never be free – forever.
I'm sure you're a very smart person, so you know this all ready. Whenever you start any business. Whether it's an online business or traditional, there will also be an investment.
So, giving you false expectations, is not what I want to do. If you're looking for a forever free method, this is not for you.
The truth is the "Wealthy Affiliate program" isn't exactly free.
Nor is it a get rich quick scheme.
You definitely will be applying some pressure to make this one work.
Either way, Wealthy Affiliate does offer a 7 day free trial to all new members.
The 7 day trial, is a limited access feature.
Meaning, you will not have access to the entire community, or training.
The only reason you may have seen other members say Wealthy Affiliate has a free membership. Is because after the 7 days you will not lose access to your account.
Starter Membership (Everyone Starts Here)
Beginner Package:
1 Website – Comes With Website Hosting, and Free SSL
7 Days Limited Support 24/7 Live Help
7 Days to ask any questions and get answers
Personal Blog Profile
No Classes outside of the core training
Level 1 Core Training – You have the choice of "Online Entrepreneur Certification (5 Lessons)" or "Affiliate Bootcamp (5 Lessons)"
Jaaxy Starter (A Keyword Research Tool) – Keyword Research included (30 Free search)
Affiliate Program Search – Helps you find an affiliate program that you can join and promote.
On this level you will receive enough training to get your website started. By lesson 5 you should have a website up and running.
This free trial does several things:
First, it allows you to have a look around the core training.
Second, it helps you learn how to setup WordPress. Web hosting, and the purchasing of your domain all from scratch.
Third, by lesson 5 you will have a website setup and running. This does not mean that you'll make money online right away. That's not how the internet search engines work. You'll still need to learn how to write content for SEO and your visitor. Drive traffic, and apply to the affiliate programs.
Fourth, by time you have your blog framework started. The goal is, for you to have a better understanding and see if affiliate marketing with a blog is a good fit for you.
Fifth, you'll receive 7 days – of 24/7 community support. Live support – my support – and founder support (even if its a major holiday). Wealthy Affiliate never sleeps, someone is always there to help.
Sixth – You'll have the ability to interact with all the members. This community is definitely not shy or stingy when it comes to assisting you.
The purpose of everyone starting on the 7 day trial is so that, you can try things out first without having to pay a dime.
In fact, you can put your wallet away because, you won't need it when you first join.
By the way in the affiliate marketing industry. A free trial for an affiliate marketing course. That comes with tools, and support is almost unheard of. This is a very rare opportunity.
Usually, you have to invest in the entire course. Plus extra purchases before, you can gain full access and use the course effectively.
Okay, let's move on to the upgraded membership.
How Much Is Wealthy Affiliate Premium Membership? $49/mo All Tools Included

The wealthy affiliate prem. membership is $49 per month. This is also the membership level. Where the majority of the training, community, and support is unlocked.
If you want to build a successful online business using a blog. You will want to upgrade to this membership. That's because, you will have tons of extra training, support, and tools.
But, you only want to do so after – you have taken the 7 day trial. And even then you need to be sure Wealthy Affiliate training is for you.
Wealthy Affiliate Premium (This Is The Most Popular Package)
This is where you'll decide that taking the leap of faith is worth moving forward.
Here's a little advice, if you feel like you're learning something, that's when you want to upgrade. Once you upgrade the entire community unlocks.
If you do not feel like you learned anything, then you have not lost anything but, time. Remember a credit card is not needed.
Premium Membership Included At No Additional Cost:
3 Websites
52+ Expert Classes per year
All Levels of Core Training " Online Entrepreneur certification" (50 Lessons) and "Affiliate Bootcamp" (70 Lessons)
1000+ Training Modules + 52 Expert Classes per year
Web Hosting that can handle up to 250,000 Monthly Visits + Free SSL + Daily Backup with Hacking Prevention + Instant DNS
Jaaxy Lite – (Keyword Research tool) comes with unlimited keyword research- $19/month value
Unlimited 24/7 Website Support
Unlimited 24-7 Live Help
Unlimited Questions & Answers
Unlimited Communication with the Community
Founder support (The founders is there everyday)
My support
DDos Protection
Amazon Web Services (AWS)
Site Content Publisher with 1000's of Free Images
Duplicate Content Checker
Feedback for your website
How Much Is Wealthy Affiliate Prem. Plus? $99/mo – You Need To Learn The Basics First
Full access to Wealthy Affiliate members premium plus membership is $99 per month.

I wouldn't recommend you starting on this level. As a beginner it is best to work your way up the ladder. Start with the free membership first.
This membership includes everything that the wealthy affiliate premium members membership had. And a tad more.
The only difference here is the amount of websites that you can host has increased by 7. You will also have access to more expert training.
Wealthy Affiliate Premium Plus (Power Users Package)
This membership level is if you want to go all in. Again, as a beginner you may not be ready to go all in.
If you are new to affiliate marketing I would suggest that you complete the core training first. Before jumping into more advanced training. It will save you time and future headaches.
You must learn the process first before advancing. Affiliate marketing is like a marathon, and not a sprint. It does take time, to learn the process and master it.
Premium Plus Membership Included:
10 Websites
Priority Support
200+ Expert Classes
Jaaxy Enterprise
Alphabet Soup
Plus, everything from premium membership
3. How Is The Training Structured?
The training structure will make you take action. Its a step by step training. It encourages you. And keeps you motivated.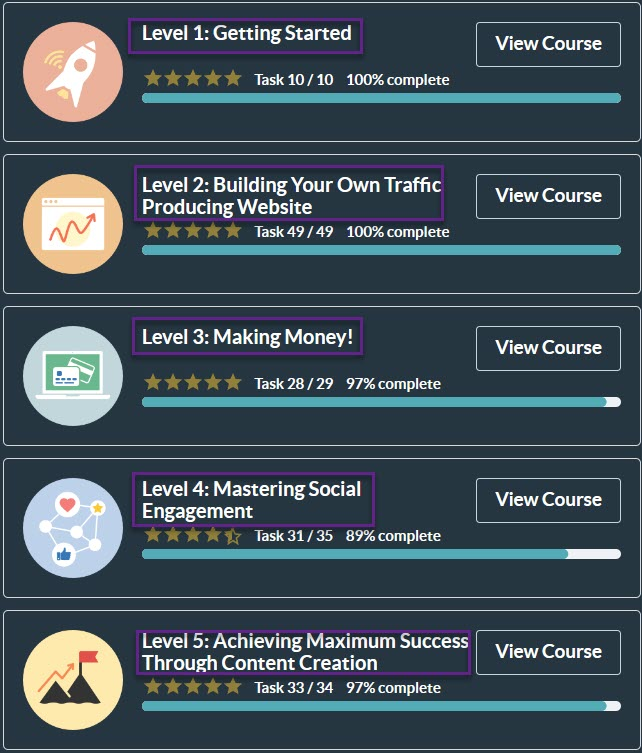 Affiliate Marketing Course "Core Training Material" Pick What's Best For You!
All membership levels within Wealthy Affiliate include training. The core training is via video along with text based material.
The difference is that each level will have a certain amount of training.
With a 7 day trial membership, you'll get access to the level 1 core training with a total of 5 lessons.
This is where the mass confusion starts. If you've ever read other articles, they tell you that WA encourages everyone to promote WA.
It's not true. If you were to join WA. There are two options. And the choice of your path is yours.
You can go with OEC or Affiliate Bootcamp—please pick what is best for you.
The core training, consist of two paths:
"Online Entrepreneur Certification Training"
Or the "Affiliate Bootcamp Training"
Online Entrepreneur Certification
WA encourages all members to start with the core training. This training will teach you how to build a full niche marketing site from scratch.
Th Online Entrepreneur Certification training. Encourages you to chose a website topic based on your own: hobbies, ideas, or passion.
Again, Wealthy Affiliate teaches you that any niche or topic is monetizable.
Choosing a niche is where most people have the hardest time.
More specifically, WA focuses on all types of affiliate marketing but, they lean towards teaching the related affiliate marketing methods.
And yes, WA does have a way to help you come up with a niche. You can use their new niche finder tool. Also members help you as well.
They recently implemented the niche finder tool. This is where most people get stuck. As a result, people end up giving up.
This is a little off the subject but, did you know even Real Estate Agents have to choose a niche?
So, what I'm trying to say here, is that all businesses need a niche.
A niche is one of the most important things that you need to decide on. Some are profitable while others not so profitable.
You need to know your financial goals. Not everyone in affiliate marketing is trying to become rich. Some want extra income.
While others are trying replace an entire job.

Affiliate Bootcamp
Even after using the niche finder tool, some people decide they can't find a niche.
Or their niche is online marketing, home based business. Whatever the case, those members decide to go the bootcamp way.
Where the outside confusion comes in is that.
WA is a training platform, and because, they show you step by step on how to do things.
The affiliate bootcamp training uses WA has an example.
So, yes they do tell you can promote WA. At the same time they also tell you do not have to.
They also tell you to add other programs to your arsenal.
So, in other words, you are not required to promote WA at all.
The bottom line is, if you are niche confused. WA makes away for you to learn. By following their affiliate bootcamp training.
As I mentioned above, this is the training, you would take if you have no idea of what to build your website around.
Instead of struggling to come up with a niche site around your passion, ideas, or hobbies.
You could build an affiliate websites that goes in a different direction.
Most reviews out there will tell you that Wealthy Affiliate members are forced to promote this community.
I don't know if this is laughable or what.
But, that is far from the truth.
If you were to join Wealthy Affiliate, you do not have to promote Wealthy Affiliate. They are not holding anyone hostage.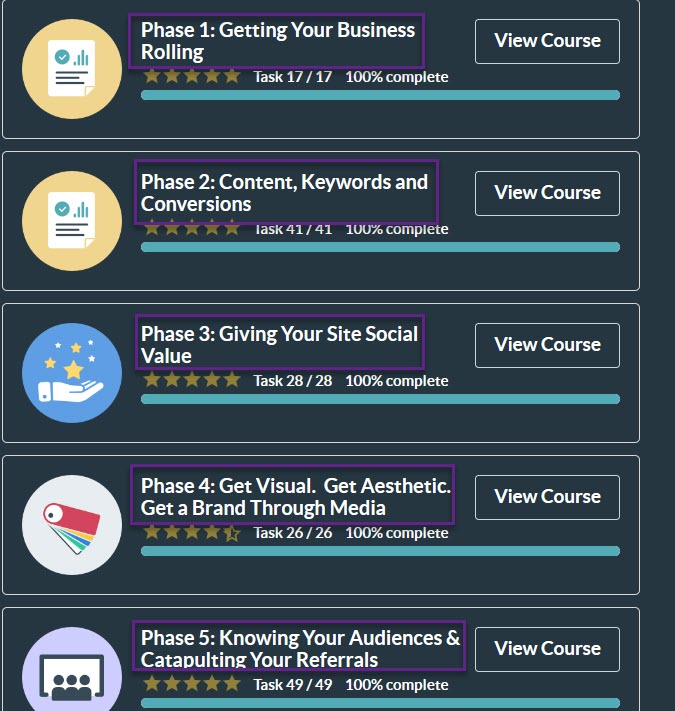 You can promote other affiliate programs, if you choose this direction. Wealthy Affiliate Community Training
Don't get this confused with the core training.
Aside from the core training, there's also community training.
The community training is done by the WA members using their own WA personal blog.
So, the information on a WA members personal blog can be outdated.
Its a personal blog. At times they are still useful with knowledge.
WA community members take part in this type of learning by:
Sharing their own current or learned knowledge.
Using your WA personal blog can be helpful in many ways.
It helps you practice your writing.
It helps you learn how to interact with others.
It helps you learn faster.
It helps you learn other people.
You can also learn from other member WA blogs because, many of them will share their wins and failures.
Community Tutorial Training
After three months of premium membership, Wealthy Affiliate allows paid members to create training.
And it's done in a way where you can earn a little incentive.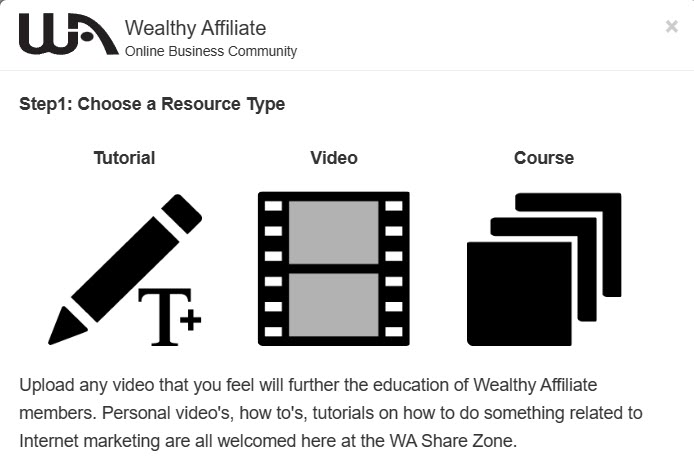 If you're a little shy no worries. This type of training is not required. Actually no training is required.
Many members of this community loves sharing their knowledge.
Sometimes, they create text tutorials, while other times they create videos.
The way you earn an incentive is when members like, share, and comment on your training.
Once a certain level is reached, Wealthy Affiliate pays you for your efforts. It's not a lot of money but a way to help members remain motivated..
Wealthy Affiliate Expert Training
Expert live training isn't done by newbies. The advanced marketers are the ones leading the training.
This is the training where you will learn to master new skills.
To watch these types of training, you must be a premium plus member. Most members start on the free membership.
Then move over to the premium member.
And once they've mastered that.
They upgrade to the premium member plus if they feel the need.
Not everyone feels the need.
Some go on to take more advanced courses outside of Wealthy Affiliate.
In fact, the expert classes were recently added to the community.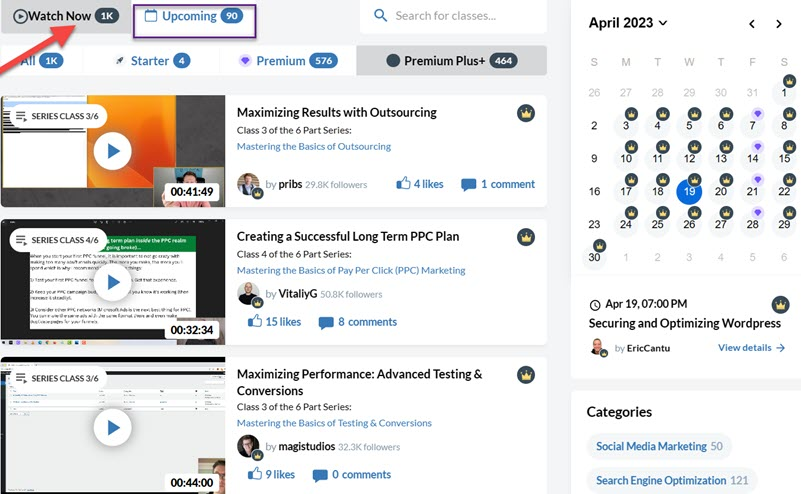 In the expert training classes you will learn:
More Search engine optimization
More WordPress tips and tricks
Niche Research
Pay per click
YouTube
Copywriting
More affiliate marketing
Email and funnel marketing
Outsourcing
4. Weekly Friday Webinars (Included)
Every Friday, Jay Magiostudios does the community's weekly Friday night trainings. He's the official Wealthy Affiliate Live Video Training Coach.
These training events are available to all paid members.
His experience is in online marketing, PPC and local marketing. Plus content development, SEO, and website development.
It's encouraged that you attend the webinars. So that it can help you develop your online marketer skills.
If you are not able to attend, there will be a replay available within a few days.
5. Jaaxy – Wealthy Affiliate Keyword Research Tool – (Included Saves $19/month)
Do you know what a keyword is and what it's for? If you don't then you its safe to say that you might not know what a keyword tool is?
So, what is a Jaaxy?
Well, I thought the same thing about other keyword tools. As a beginner you don't have the knowledge of these types of tools.
Jaaxy is WA's keyword tool that comes included with your membership.
Is it the best one out there? No! But, it can get you where you need to be until, you are capable of investing into a more advanced tool if you wish.
In fact, its the first keyword tool that I used.
If you were to tell me when I first got started online that I would be paying $99 to $128 or more per month to find keywords.
I would have said you were crazy.
Using a keyword tool is a real eye opener.
Some are more advanced than others.
A keyword research tool, is used in the process of process of finding keywords. And analyzing what people are searching for on the internet.
Some keyword tools will give you enough information to get started.
And that is what Jaaxy does.
You also have keyword tools that can tell you almost everything about your audience. Of course, those type of tools comes with fees on top of fees.
These are the more advanced tools.
The primary focus of the keyword research tool is to find topics that your audience is interested in. Of course, you do not want to rely solely on a keyword tool.
The idea behind this is, if your audience is not searching for the topic according to the keyword tool.
Your website will not get traffic.
So, you want to choose keywords wisely according to best SEO practices. Based on its search volume analysis and it ranking difficulty.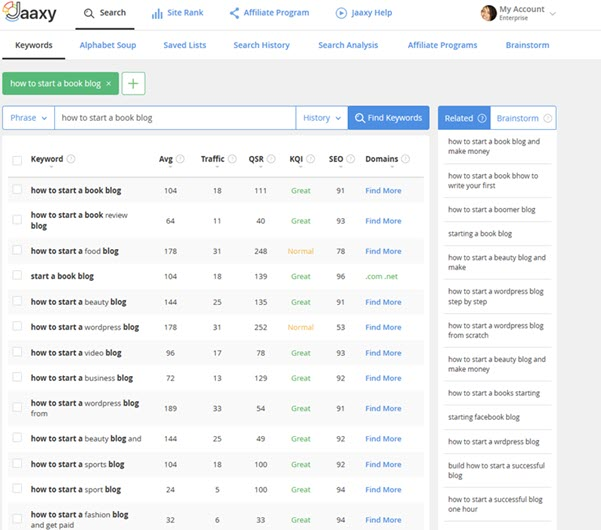 The bottom line here is, WA has made a way for you to afford a keyword tool. They are saving you an additional $19 to $130+ per month.
The more data a keyword tool reveals, the more you will pay.
With Wealthy Affiliate keyword tool, you aren't given all the bells and whistles. You're given a tool that works and helps you get started.
Thankfully, it is included with your membership, and it will help you save at least $19 per month.
6. Wealthy Affiliate Community It's A Cult
Is Wealthy Affiliate Community a cult? Or what?
The things I see online about WA is tickling. My belief is there is some confusion.
Wealthy Affiliate is what we call a "pay it forward" community.
This community was built for the purpose of helping people. They understand how overwhelming starting an online business can be.
They also understand how many people have never run a business before.
Besides that, they understand that not everyone has a lot of capital to invest.
So, WA has come up with a way to help those that can't afford to invest a lot of capital.
They also understand that one of the main reasons people fail is due to the lack of support.
With that said, they aren't a cult. Don't be afraid no one has controls over the members.
In this community, there are a lot of WA fans because, well WA has truly helped them. From Training, to Saving, Learning, and building websites.
The people are more helpful than any other community that I joined. In fact there's so helpful that if you're an introvert.
This community can seem a little overwhelming at first.
But if we were to think about this in a logical way its better to have a lot of support than none at all.
This is truly a pay it forward community.
7. Wealthy Affiliate Support (Included Saves Money & Time)
For the most part Wealthy Affiliate support, is pretty good, at least from my experience. I have always gotten help and had my questions answered.
You can receive support in several different ways. I'll break those down for you here:
Live chat
This is where you're supposed to be able to jump in and ask a quick question. Personally, I never go into live chat because, to me, it seems a bit crammed.
And the people in there stick to themselves. And it is not easy to keep up with the messages so its not user friendly. In any case, some people enjoy it.
Community Q&A
Without a doubt, questions will arise at the craziest moments. So, if you ever feel like you're stuck, you can ask anyone in the community.
It's difficult to explain how its done but, know the community can see you need help. Someone is usually coming to your rescue within a few minutes to an hour or so.
Private Message Support
1-on-1 support is where you can reach out to any member . I find myself helping many members. As I mentioned earlier we as WA members are encouraged to help each other out.
Site Support
If you ever have any issues with your web hosting. Or website itself. All you have to do is put in a site support ticket and they will assist you.
For the most part, they try to resolve your issue within a short time.
Unlike other affiliate programs. Wealthy Affiliate actually does provide support at no extra cost.
As you can see I help in the community.
8. Wealthy Affiliate Hosting (Included Saves $$$)
As far as WA hosting goes, I had to test this out for myself. So, I've used other website hosting to see what the difference was.
Right now, the blog you are viewing is not hosted at Wealthy Affiliate. Nonetheless, I've written an article over Wealthy Affiliate hosting, explaining the difference.
If you're on a budget, and you want to get started with affiliate marketing. Using their hosting to your advantage is a smart move.
I can also say that I've tried several hosting companies, and WA hosting is a lot better some other companies.
Let's take one of the most promoted hosting companies, BlueHost.
For whatever reason, this company is promoted the most.
Right now, they offer a special for $2.95 per month if you agree to join them for 36 months, or $106 per year.
After your promotion ends, the hosting service will cost you $10.99 per month, which rounds out to be $132 per year.
One important thing you need to know is the faster your hosting, the more you will pay.
I've seen hosting as high as $399 per month.
What I would suggest here is if you plan on joining Wealthy Affiliate, I would take advantage of WA's hosting.
It wasn't easy trying to figure out if Wealthy Affiliate hosting was any good. I guess the doubt set in that it didn't work. So, it took many trials and errors for me to figure out.
Unlike, other hosting services. I can say today that I know for a fact that Wealthy Affiliate site support, is the best. Especially for a beginner with no techy knowledge.
Whenever anything goes wrong with your hosting. The site support team takes over. They do not leave you to read an article.
I'm not saying that other hosting companies do not help you along the way, because, they do.
Other hosting companies give you an article to read, if the support team is not able to assist you.
Instead of taking over like WA site support team does. They will redirect you to their knowledge base article.
At Wealthy Affiliate you do not have to worry about that.
They have a hands off approach.
Meaning the support team fixes the issue in the background, while you go and continue to work.
For example, right now I am trying to still learn how to use cPanel. And all the other techy things that go along with maintaining and hosting your website. It gets frustrating learning the new terminology
As a beginner this is not something you want to worry about. I've never tried it myself, but hosting can always get transferred to a different company.
9. Wealthy Affiliate Incentives
How else can you make money with Wealthy Affiliate?
Wealthy Affiliate teaches you how to make money with your affiliate website.
But, did you know that Wealthy Affiliate has other ways to earn money? And it isn't from your blog.
They're more like incentives. I'll explain below.
Site Comments
Give other members at Wealthy Affiliate comments on their websites. It helps you earn WA credits. It's no different than the Facebook groups where you join to ask for other people to comment on your website.
Site Feeback
Site Feedback is where you give a WA member your honest opinion on how you think they can improve their website. If you take part in this, you will earn credits.
Tutorial Training
As I mentioned earlier, there is member tutorial training. If you were to provide training for the community, yes, you could earn WA credits.
Wealthy Affiliate Ambassador
To become an ambassador it's not an easy thing to do. But, if you were to become one. Wealthy Affiliate selects a few and sends out WA swag to your home. It's a way to thank you for supporting the community.
Las Vegas Incentive
If you invite 300 people to Wealthy Affiliate within a calendar year. Wealthy Affiliate pays for your trip to Vegas.
You will get to spend a few days in Vegas. Discuss the upcoming year and the direction WA is heading in. Receive a few WA gifts. Meet the owners.
Party and socialize. Plus get a sneak peek at what Wealthy Affiliate plans to do for the community in the coming years.
The bottom line is that the Wealthy Affiliate's main focus is helping out the community.
With the credits, you can turn some of them into cash. Use them for your membership, purchasing domains, or keep it.
Earning credit isn't as easy as it sounds, but if you apply some pressure, you can make a few dollars.
10. Build An Email List: Do They Teach It?
There is very little training, in the community about building an email list.
At this moment, Wealthy Affiliate does not teach in detail how to build a list that will drive results.
But, as I mentioned somewhere in this Wealthy Affiliate review. They are always improving the platform.
By the way, not all courses teach about building an email list anyways.
However, we do have great news going forward!
Starting June 17, 2023, Jay Neil will be doing a 6 part series. It will teach the community how to master the basics of email marketing. This class will teach you:
How to use opt-in form
How to segment and organize your email list.
How to make sure that your emails get delivered.
In this 6 part series, you will understand the fundamentals of email marketing. Learn how to create engaging email content
Create effective subject lines
Create compelling visuals
Optimize emails for mobile devices
Learn how to track and analyze your results
And develop an email marketing strategy
11. What About Social Media, PPC, YouTube?
WA has very little information on how to increase traffic on Pinterest. Pinterest is my favorite platform, therefore I had to purchase a separate course for that.
As far Facebook, they have outdated information about using FB page. Today, Facebook doesn't really show a brand new page as it use to.
Twitter and Instagram, they do not go into to much details about marketing on these platforms either.
The only training that has a full series is TikTok and YouTube.
Again, as I mentioned WA is not big on spending time on these platforms. Instead they think you should focus on the process. Then spread your wings later.
Also I can say WA doesn't have training on LinkedIn either but, using the skills I learned from WA I was able to build a pretty decent network.
The bottom line is WA does offer a ton of training. They add more training each week. So, just because, they aren't big on social media right now doesn't mean they will never be.
On thing about social media, you can lose your account over night.
This is the main reason why you should consider building a website if you plan on building an online business.
12. What Is Wealthy Affiliate Refund Policy?
Refunds are unavoidable. It happens! There seems to be some confusion about the Wealthy Affiliate refund policy.
Do they have one or not?
I have to admit I searched all over their website to see what the policy terms were.
At first, I couldn't find anything that was clear and visible to the eye.
So, I dug a little deeper. Since Wealthy Affiliate allows everyone to start on the 7 day starter membership. Without requiring any type of payment information. All services are non-refundable.
Often, digital products aren't refundable due to the fact that the creator has granted access. And when you refund the sale, the digital product is still in your possession.
So, in the case of Wealthy Affiliate. Please keep in mind that if you choose to join here, the payment you submit may not be refundable.
Let's say you have a good reason for a refund. They might approve it.
But, there's no guarantees . Because it's written in their terms of service agreement that they do not process refunds.
It's also in fine print. It states
"By creating your subscription, you allow Wealthy Affiliate to charge your card for this payment and in the future under their terms." You can always cancel at any time."

Wealthy Affiliate Support
While we are on this refund topic.
As with any other digital product which comes with a monthly subscription.
You expect an automatic charge every single month or year.
So, it's your responsibility to remember to cancel your payments.
Or the company may continue charging. I'm sure if you pay bills you all ready know this.
If you need help requesting a refund, you would need to message Kyle or Carson and ask for a refund.
You don't want to be demanding.
Explain the situation, and they might refund your monies.
Either way, they are the only ones who can determine if it will get approved or not.
From my experience, Wealthy Affiliate has approved refunds.
I had at least two referrals request a refund.
So, I assume that if you forget that the membership will renew, they might refund you.
In both cases, my referrals contacted Wealthy Affiliate immediately.
So you might not want to wait around to request that refund.

13. What Forms Of Payment Does Wealthy Affiliate Accept?
Wealthy Affiliate accepts the following forms of payment:
Credit Card
Debit Card
PayPal
Wealthy Affiliate Credits (if you are brand new you will not have any credits to use)
When you sign up for a Wealthy Affiliate membership, you will be able to choose your preferred payment method.
14. Does Wealthy Affiliate Offer Discounts?
The major discount that comes to mind is their Black Friday deal.
Every year Wealthy Affiliate has a Black Friday special, where you can get a huge discount.
Usually, its almost a 50% discount.
This year due to inflation, I'm not sure what the discount will be but, I'll be sure to keep you posted once I get that info..
In fact, that's how I got started with WA. I paid $299.00/ year and that covered all my tools,. If you were to ask me I think that was an excellent deal.
Another way to get a discount that usually works with all programs. If you pay a year in advance you could save some money.
Most members that plan on being there pay a year in advance.
So that they do not have to stress over monthly payments; whichever way you decide is up to you.
If you were to pay a year in advance. Wealthy Affiliate Prem. package is $497.00/year saving you a total of $91.00.
Or Premium Plus membership is $697.00/year which will save you a total of $491.00.
And don't forget about all the other savings.
The keyword tool + hosting + continuous training + support. Some programs you will pay for all the above.



15. How Long Does It Take To Make Money With Wealthy Affiliate?
There is no one-size-fits-all answer to this question.
About the amount of time it takes to make money with any program depends on many factors.
Your level of experience
The amount of time you put in
How many mistakes you make
And the niche you choose
But, if you are willing to put in the work. And follow the training, you could start making money, but again, there are no guarantees.
I would say to give yourself at least a year because you are building a business.
Here are some tips to help you make money with Wealthy Affiliate faster:
Choose a profitable niche
Not all niches are created equal. Some niches are more competitive than others. Some have higher conversion rates.
Do some research to find a niche that is both profitable and that you are passionate about.
Create high-quality content
Content is king when it comes to affiliate marketing. If you want to attract visitors to your website and convert them into customers.
You need to create high-quality content that is informative and engaging.
Promote your website
Once you have created high-quality content. You need to promote your website so that people can find it.
There are many ways to promote your website. Including social media, email marketing, and paid advertising.
Be patient
It takes time to build a successful affiliate marketing business. Don't expect to make a lot of money overnight.
Keep working hard. And following the training, and you will eventually start to see results.
16. Is Wealthy Affiliate Worth It?
Yes! They are worth if for several reasons. Just to name a few.
If you're on a budget and would like to get started with affiliate marketing, then WA is a great way to get your foot in the door.
If you never ran a WordPress blog before, then WA will teach how too.
If you have struggled making money, this is also a good way to learn at an affordable cost.
When I started online I never even heard of the word, "affiliate marketing."
Think of affiliate marketing as school.
In school, they teach you the same core subjects over and over again.
Each year, they add a little more information. Every year you advance from your earlier years.
One thing about blogging is that you must learn to write high quality content.
You'll definitely need to learn proper SEO. You'll have to learn Double E-E-A-T, Maintain your website, fix any issues, and be consistent….etc….
As I've mentioned earlier, I've taken a ton of affiliate marketing courses. Some of which were good but provided very little information.
Some are not so good.. And others were too advanced.
What I've learned is that there's a difference between these courses.
Some of the courses give you very little information so that they can send you through a sales funnel and promote more offers to you.
It's like leading you down a rabbit hole.
Then you have the affiliate course, where you need to determine if the course is for a complete beginner or not.
Most courses that teach beginners don't exactly start from the very beginning.
They assume you have some knowledge and go from there. They assume you all ready know what a WordPress is.
They assume you know what a plug-in is. Well, news flash not everyone knows that.
For example, most blogging courses assume you know how to purchase your domain. Set up web hosting. Create internal and external links, add affiliate links, choose your topics, and so on.
The truth is that a beginner with zero knowledge knows none of that.
There advanced affiliate marketing courses, teach from the very beginning stages. With those courses, you'll need some knowledge of what you're doing.
So, if you start off with those courses, you could possibly succeed. But, you could also miss all the moving parts that you need to succeed.
As a result, you need to do a complete redo.
Either way, the majority of the courses teach the same methods. With different techniques.
Some other differences are that other than affiliate sites. Marketing programs teach paid traffic.
Hiring writers, guest posting, backlinking, building your business on social media.
And so many other methods. As a beginner these can become distracting, time consuming, risky, or pocket draining.
So, if you go with a more advanced course, it will require you to purchase many of the needed tools separately.
Plus invest in many other methods to drive your traffic.
And as I mentioned earlier you could miss out on building a strong foundation for your business.
While WA training main focus is driving traffic to your website using SEO. SEO is free traffic. It's a process that works but, very slow.
They also teach other methods that drive traffic too such paid traffic, social media and so on.
Besides that, they are the only ones that I know of that provide you with all the tools that you need to get started.
And until I find other helpful courses, I would still recommend you start with them.
They are more focused on beginners, who have made very little online money.
17. Is Wealthy Affiliate Training Outdated?

Lately, I've come across a lot of negative reviews about Wealthy Affiliate. So, I wanted to bring this important point to your attention.
If I had never joined Wealthy Affiliate myself. And implemented what they taught.
I may have been the one to fall and believe what others had to say about Wealthy Affiliate.
Here are the facts:
Are all the courses outdated? No!
Is most of the training outdated? No!
Is some of the training outdated? Yes!
In fact, Lesson 4 of 5 should be skipped. It's a repeat of Lesson 1.
This community has been around for about 18 years. So going back and trying to update the entire community is still a work in progress.
Even so, the so-called outdated training still worked for me.
As I mentioned earlier, Wealthy Affiliate is the largest affiliate marketing community.
In other words, they are the powerhouse of affiliate marketing for beginners.
They are the leaders when it comes to teaching beginners how to make money with a website.
The way negative reviews work. Is if you can get your article on Page 1 of Google. You can bash a company without ever having taken the training yourself.
They talk badly about the company to gain your trust and promote their own product.
This is not the same as someone actually paying for a course and having a negative experience.
If you follow the training, put in place what you learn, and are consistent.
The steps and principles that you learn within Wealthy Affiliate do work
Many of the people who have talked about Wealthy Affiliate have never even joined. But, some did join, and they only stayed a month or so.
From my own personal experience, Wealthy Affiliate training still worked.
18. Is Wealthy Affiliate A Scam? Is Wealthy Affiliate Legit?
No! Wealthy Affiliate delivers on what it says it will. They never promise you money over night.
In fact, they tell you that it will take hard work and consistency.
Regardless, you will receive training, support, and all the tools.
Your going to need them to start succeeding online. I would suggest you get involved with the training.
Go through it first, and see for yourself, that this place teaches you how to generate a legit income online.
But, if you're looking to get rich quick, then yes, you might think Wealthy Affiliate is a scam.
The reason some people think WA is a scam is because, they join the community but never show up.
They think that they can start a blog, and BAAM, it generates income instantly.
Unfortunately, we all would like that to happen, but, it doesn't work that way.
No worries, this happens often in internet marketing world.
People call programs a scam when they are not, and vice versa.
The bottom line is that if Wealthy Affiliate is legit. They've been making money and prospering for the last 18 years.
19. Is Wealthy Affiliate an MLM? Is Wealthy Affiliate A Pyramid Scheme?
No! Wealthy Affiliate isn't a MLM. Nor is it a pyramid scheme, Ponzi scheme, or a network marketing business.
Wealthy Affiliate focuses on helping people become a successful affiliate marketer.
And marketing business where we promote other peoples products.
This is how Affiliate and affiliate marketing businesses works.
You are paid through your own marketing efforts.
Once you build your website, write your content, and drive traffic to your affiliate links.
The commissions that you earn comes solely from your efforts and no one else's.
Meaning Wealthy Affiliate does not have teams.
There are no downlines, uplines, or family trees.
There's no binaries, matrix, unilevels, breakaways, or hybrids.
In fact, there are no sponsors. WA members are not paid on multiple levels. so, in other words Wealthy Affiliate does not have sub-affiliates.
As Wealthy Affiliate members, we only offer support to each other.
And your end results depend on you and your efforts.
You will take home 100% of the commission percentage that you've earned.
Further, Wealthy Affiliate is available in almost every country, with a few exceptions.
MLMs, on the other hand, aren't exactly illegal, but MLMs have different rules in each state.
The final point, I'd like to add is that pyramid schemes are illegal just ask the Federal Trade Commission.
20. Wealthy Affiliate Lawsuit
It' so funny how people say WA is an MLM, pyramid scheme.
I think that the Federal Trade Commission would have been shut WA down.
So, I believe there has been a misunderstanding once again.
I read someone's review saying Wealthy Affiliate has been sued for being a pyramid scheme.
Not only did it say that Wealthy Affiliate was sued, it said that WA has denied the allegations.
Ironically, the company that sued Wealthy Affiliate. Was the same company that I and many others were scammed by.
I didn't find out Wealthy Affiliate was sued by MOBE until this year 2023.
Either way, Wealthy Affiliate won the lawsuit.
I joined MOBE in 2017.
The lawsuit apparently happened before I joined Wealthy Affiliate.
Wealthy Affiliate was served with a lawsuit on December 23, 2015.
If you ever read my about me page, I mentioned that I was scammed.
In fact, if Kyle the co-founder of Wealthy Affiliate, had never written articles helping people avoid scams.
He was just stating the facts.
MOBE may have never been exposed. The lawsuit has been resolved and WA won.
Oh yeah, I forgot to mention the Federal Trade Commission was the one who got involved.
The bottom line here is that the situation has been cleared and resolved. And what's even crazier. The FTC sent me a payment after the lawsuit closed.
It's also important to note that Wealthy Affiliate is not the only affiliate marketing program that has ever been sued.
In fact, there have been many lawsuits filed against affiliate marketing programs.
I've seen a lot of home based business opportunities get shut down.
If you're joining an affiliate marketing program.
It's important to do your research and to understand the risks involved.
You should also be aware of the fact that there is no guarantee that you will make money with any affiliate marketing program
21. Wealthy Affiliate Complaints
The program has been around for 18 years and has over 1.4 million members.
So, of course, there will be people complaining.
The truth is, you can't please everyone.
So, Wealthy Affiliate has also been the subject of many complaints from members.
Some of the most common complaints about Wealthy Affiliate include:
The training is outdated and not up-to-date with the latest trends in affiliate marketing.
The training is too expensive, especially for beginners.
The training is too long and drawn-out.
The training is not very comprehensive and does not cover all aspects of affiliate marketing.
The community is not very helpful or supportive.
There is a lot of pressure to recruit new members.
The program is a pyramid scheme.
It's important to note that not everyone who has complained about Wealthy Affiliate has had a bad experience. I myself have not had a horrible experience.
When I first started, I did come across some conflicting information.
And it wasn't until I learned a lot more about affiliate marketing. Wealthy Affiliate doesn't teach backlinking. Nor guest posting, nor some of the other methods that many other Gurus will teach.
Backlinking, is it going to make or break you? I mentioned later in this review about what John Mueller the guy from Google has to say.
Another issue I had was I didn't understand the purpose of the community training.
Wealthy Affiliate allows members to create training, but if that member does not update their own training, it remains on their profile.
This can be both a good and a bad thing.
The point of Wealthy Affiliate allowing members to do this is to help you learn how to create content, interact with others, and have your blog posts within Wealthy Affiliate actually rank in the search engines.
With a community this large, I'm sure it takes time to update and maintain. I've seen them make major improvements over the last two years.
With that said, Wealthy Affiliate has gone back and updated most of the training and entire community today.
Every now and then, you will find repeated information.
When you come across something like this, you can request an update.
If you were to ask me if Wealthy Affiliate is the be-all and end-all, I would say no.
At least not right now.
It's a place to at least get you started.
Therefore, it is important to be aware of the potential problems before you sign up for Wealthy Affiliate.
If you are thinking about Wealthy Affiliate, its great to see you have done your research before you make a decision.
You should also be prepared to put in a lot of work and effort if you want to be successful with affiliate marketing.
Remember, there is a 7 day trial so you can check it out for yourself, and then you can tell me what you think.

22. Is Wealthy Affiliate SEO Training BAD?
There's a lot of confusion online. Many marketers say you need backlinks and others say you don't.
In fact, it almost seems like an obsession.
Well, Wealthy Affiliate doesn't teach backlinks, there is no other way to put this.
Instead, Wealthy Affiliate teaches beginners to provide helpful content.
With informative answers making your user experience great. Eventually you will acquire backlinks naturally.
I believe the backlinks are meant to help you rank better in the search engines. It speeds things up.
What is so crazy to me you still will be facing the same time frame when it comes to earning money. Up to 12 months.
So, I guess this is why WA doesn't teach it.
I went searching for answers and found an article that you might find helpful.
I also noticed that the guy from Google John Mueller says kind of the same thing.
"As a beginner you do not need to focus on backlinks." Maybe later you can but, at this moment no.
Furthermore, right before he talks about backlinks he is answering a different question.
If you noticed he said that "You need to learn to make a website. Learn to interact with the various search engines."
This is exactly what Wealthy Affiliate is trying to teach you.
Listen for yourself.
The only other way to help you answer this question is to read this article on how Google Discusses Natural Backlinks.
I've also provided a video from John Mueller.
To hear what Google thinks about Backlinks skip to 35 minutes 46 seconds.

The point is that backlinks are important. Just don't spend months stressing yourself about obtaining them. You have a lot to learn during this entire process.
23. The Owners & Trainer Don't Live Or Breathe Niche Sites Anymore
After seeing many reviews about Wealthy Affiliate owners and trainer. I thought it would be best to address this subject.
I noticed that when people outside of Wealthy Affiliate decide to review the WA community.
They always take the owner's website and run it through a traffic test. Does the owners have secret websites?
I don't know.
What I do know is the rumor on the web is that WA owners do not know what they are doing.
People outside of WA do this by showing you training websites.
Their main purpose in doing this is to show you how the co-founder. And WA trainer aren't getting any traffic to their website.
They go on to say they aren't making any type of money.
One point I'd like to add here is those websites are built for training purposes. Furthermore, the WA trainer Jay, has been running his own business since 2004.
He actually offers his own services to improve clients SEO. And he does this daily.
Therefore, the websites that are shown by non-WA members were created for a purpose.
Making money or driving massive traffic to them is not one of their purposes.
But, you'd have to be an active WA member to know and understand that.
You got to understand that they see this as part of business. Dominio's will never encourage you to go to Pizza Hut.
24. Does Wealthy Affiliate Work?
Whether or not Wealthy Affiliate works. It depends on you and what you are looking for.
If you're looking for a get-rich-quick scheme, then Wealthy Affiliate is not the program for you.
Also, there is no guarantee to make money with any program. But, if you are willing to put in the work.
Be consistent, and follow the training.
Then Wealthy Affiliate could possibly help you make online money.
It is the place where I learned how affiliate marketing works with a website. I followed the training to the best of my ability.
And I was still able to drive traffic to that website, and make money through their program.
The image below is showing you what I was able to do with my first website.
I wrote a post and my traffic went crazy.
Oh yeah, and this is what outdated training did for me. So, is Wealthy Affiliate training outdated?
Either way, Wealthy Affiliate offers a training program that covers affiliate marketing. From creating a website to driving traffic to promoting products.
The program also has a large and active community of members who are always willing to help each other out.
If you are serious about making online money. Then Wealthy Affiliate is a great option for beginners.
With the right training and support. You have the possibility of achieving your financial goals.
25. Wealthy Affiliate Success Stories
Are Students Getting Results?
Yes, students at Wealthy Affiliate are getting results. As with any other business opportunity, some have failed. And as long as they keep getting up they have not completely failed.
Everyone reaches their goal at different rates. Some climb a ladder while others have to go over a mountain.
Below are some inspiring success stories from people who didn't know they could make it work.
I also made sure that I showed you success stories where people were NOT promoting WA. Also, keep in mind that not everyone is comfortable sharing their bank account.
So, that is why you won't see a ton of success WA stories.
Ralph -Wealthy Affiliate Success Story #1
Ralph was a part-time kickboxer. His niche was in health and wellness.
In fact, to blow your socks off, Ralph made $24,369.30 in one month. As you can see in the boxed area, it says something along the lines.
"He was not trying to brag about his accomplishments but only to serve as a motivation for those that still had doubts about WA training."
According to Ralp his goal was to make at least $1000 per month. He could not ever imagined making much more than that.
Today Ralph is a 6 figure earner and it came from the WA training. Ralph leaves us with a tip.
He started with very little money and a dream.
He had the desire and the determination. And unless you quit three is no reason why you can't reach your goals as well.
Eddie -Wealthy Affiliate #2
Since joining in 2015, Eddie Sand has seen success. In 2020, he set precise goals.
His goal was to bring in $200,000 within 3 months.
He went live on social media channels, talking about how he was not going to miss this wave.
By the end of 2020, he had made $116k in revenue.
So, he missed his goal by $84,000.
A few months later, he landed an interview with DC Glenn. I
f you don't know who DC Glenn is, he was part of a hip hop rap group that had a hit single called "Whomp! There it is!"
Eddie's tips are to write down your goals. And don't say you just want to make money. Write your goals in details.
Including yourself and your family. Work towards those goals every single day. Eddie was not promoting WA.
Wealthy Affiliate Success Story #2
Phyrb joined in 2017 and was able to generate $6,800 from four affiliate programs that he was promoting.
The majority of the money came from a stock trading educational product. That product alone made him $6327.
According to Phyrb, ever since joining Wealthy Affiliate, his eyes have really been opened to the power of promoting high paying affiliate programs that have excellent sales funnels.
Thabo -Wealthy Affiliate Succes Story #3
Thabo from South Africa joined Wealthy Affiliate in 2018. He said many people ask to see his results.
And his response was that he will not show any results until he met his goal of earning at least $2000 per month.
By April 2020, Thabo had made his first $2000 month,. By June 2020, he was making at least $5000.00 per month.
He let the community know that achieving his goal was not 100% easy. Now that he has reached it, it has become a little easier.
He also wanted to make sure everyone knew he was not promoting Wealthy Affiliate.
His income came from being int he Forex Trading niche.
Russell -Wealthy Affiliate Success Story #4
Russell has been in the community since 2014.
The only reason why he decided to share this testimonial is because, he said he knew other Wealthy Affiliate members wanted to know if the training worked.
He started a website in June 2014 and sold the website in December 2016 for $38479.
The inspiring part about Online Geek is that he moved from Africa to Sweden and struggled to write content.
He believed people would not accept him.
He acknowledged the hurtful comments and everything, but he ignored the noise and kept pressing on.
He says that WA training, support, and hosting was a steal.
Ralph continued to grow his website. But during COVID it was a little difficult. But he is back at it again. In for the long haul.
Steven -Wealthy Affiliate Success #5
As I mentioned every one does not want to share their income. Steven from Malaysia is one of those.
He had his doubts when he first started WA.
Last year all that went away. He is in the travel niche.
His blog that he built following the WA training, has generated over $1 million dollars in sales for a company.
This is not the only program that he is generating sales for.
Let me be clear he did take a million dollars home. His website drove enough traffic to where it made over $1 million dollars in sales for the company.
Of course, that company gave him a percentage of the money, which was still a pretty nice income. He was also not promoting WA.
Arjun – Wealthy Affiliate #6
Arjun from India was able to quit his job within 26 months of joining WA.
Arjun said he doesn't learn fast but, he never shy's away from asking questions. He kept pushing even though it was tough.
He made his money through Google AdSense, and promoting another niche that was not WA.
Arjun left us with a few tips. You will experience ups and downs, just keep crushing your blog.
He said, he was writing at least 4 to 6 articles per month.
His keywords is what got him to the top of Google.
Marsha- Wealthy Affiliate Success Story #7
Marsha and her husband owned a contracting company. The came to WA to learn how to build a website and host her websites in one place for an cheap price.
After getting her website presentable. Marsha and her husband was able to lock in several contracts. One for $9000.
Another for $12000. One fell through. And without her websites they made $1500 due to the slow months.
Goes to show that having a website can spark a lot of things. Again, Marsha and her husband were not promoting WA.
As you can see all these members learned with WA training. And none of these WA success stories were promoting WA.

26. What Language Is Wealthy Affiliate Training In?
WA is in English. There is no other language available for this course.
The only way you will be able to go through the training is if you understand the English language.
Another way, some members have done it is they use a translator.
The training is done via video and text.
Because, Wealthy Affiliate is available in almost every country. There are many members who join but can't speak or understand English.
What they have done is use Google Translate. I myself have conversed with members using Google Translate.
I've had many referrals come into the community that spoke a different language.
And as you can see in the WA success stories many of them English was their second language.
Wealthy Affiliate Compared To Its Competitors
Compared to many other training courses, Wealthy Affiliate is affordable. It doesn't need a huge investment.
But it will need you to be patient.
And willing to learn because you are taught Search engine optimization.
A method used to drive free traffic to your website.
Is Wealthy Affiliate Worth The Price I Pay?
Yes, you are still wining with WA. After taking many courses and getting involved with many other affiliate marketing communities.
I can say that Wealthy Affiliate is worth the price I pay. It's a bang for my buck. The ROI is amazing.
Here are the reasons it' worth it.
All the tools that they provide for the price that you pay are like getting a lot for your buck. Also, if Wealthy Affiliate didn't provide all the tools for an affordable price.
I might have never gotten started.
I don't use all the features, but it still helps to know that i have the tools available.
I can admit that there is so much information in Wealthy Affiliate.
Sometimes it does get hard to navigate.
In any case, it's understandable given the size of the community.
The support of the Wealthy Affiliate community is priceless.
The people in this community support and uplift each other. It actually seems like no one ever goes to sleep.
So, if you ever get stuck, or need help, there are usually people in the community that can help you.
Having to scramble for answers can be very frustrating, especially as a beginner.
Whenever, I need help, all I have to do is go to the community and ask for help.
There has never been a time, when I didn't receive an answer. Usually someone responds within the next few minutes or hours.
I've even tried emailing Kyle, the cofounder, for help, and he did respond.
In fact, Kyle is in the community every single day. It's almost like having co-workers or close friends that work with you.
It feels like you are showing up to a virtual office. You will never feel alone.
I'm going to end it with this, there may be better or more advanced courses out there.
But, the community support at Wealthy Affiliate can't compare. and nor can the price with the tools that you get.
27. Should You Join Wealthy Affiliate?

I believe the people who join for the following reasons have been misguided. Therefore, I want to set realistic expectations. The misguided join because:
If you're used to seeing programs, saying that there is a push button system there's not.
Then you have some people who think that they will make money overnight.
Some people are looking for easy money with very little effort
And then we have those that need to pay their bills by the end of the month, but don't have the extra funds to pay for the membership.

Regardless of what affiliate marketing training you take. Building a website does take time.
So if you're in the situation where you don't have the extra funds.
You might not want to join Wealthy Affiliate platform at this moment.
Instead you will want to seek employment or freelance work.
After inviting members to Wealthy Affiliate, I don't believe it's for everyone. I'm going to give you my most humblest opinion.
It really depends on what your end goals are.
Are you willing to put in a lot of work?
And invest your time and money?
Do you know how to set up a website and use web hosting?
Can you be patient to make this work?
Wealthy Affiliate teaches search engine optimization without bugging other bloggers for backlinks.
What this means, is that you will attract people to your website learning SEO.
SEO is used when you want to get search engines to drive traffic to your website for free.
In fact, it is a great skill to learn. Besides that, SEO works wonders once you have mastered the basics.
But, truth is, its a very slow process when building an online business.
At the same time, it helps you build a strong foundation that can create passive income for years to come.
Even so, I've seen members come in and squeeze every valuable penny that they paid for in their membership.
Then so, I've seen members come in and pay for an entire year and do absolutely nothing with it.
And turn around and say it didn't work for them.
I believe these are some good solid reasons that people join:
Some are seeking financial freedom and complete control over their life
Others want to make an extra income.
Some members have struggled with past training, and they are tired of chasing anymore.
Some of the members before joining have never made a dime online.
Others have been scammed.
Some members just love the support that they receive, its no doubt within Wealthy Affiliate you will make friends that you could end up knowing for years.
Most members did not know how to set up a website, and failed miserably on their own.
Most people in the community do not want to work for anyone else but themselves
And there are people who enjoy the availability to work whenever and wherever they are.
Wealthy Affiliate also has recently graduated high schoolers, and college students that are trying to get a jump start in life and within the internet marketing space. So due to the affordable cost at Wealthy Affiliate they join.
For the most part, when people decide to join wealthy affiliates, there are several reasons.
At this point, you should ask yourself, are you ready to get out of the rat race? If so, you need to do something about it.
You need to do what it takes to be your own boss.
And regardless, if you decide to join Wealthy Affiliate. Working hard towards your financial goals is inevitable.
The reason I joined Wealthy Affiliate is because after being scammed by MOBE.
I realized that making money online is a real thing but, what I did not realize is how much effort it takes to make it work.
Either way, I came across Wealthy Affiliate, and it said I could try it for free without using a credit card.
So, since there was no risk, I took the leap.
I'm so glad I did because, Wealthy Affiliate is the place that taught me how to setup a website. Write content, and I learned how to make passive income.
The problem was I stopped blogging.
And, it wasn't due to Wealthy Affiliate, it was more of life and self doubt getting in the way. And , I wasn't ready.
So, this is why I want to be transparent with you. That way you have a clear understanding in what you are getting yourself into.
Today I have employers contacting me directly for interviews. It's the SEO skills their after. I guess I do well enough for them to do so.
I haven't applied for a real job in the last 13 years.
Do you know how good it feels to tell them I am not interested? I'm not saying to quit your job.
You shouldn't. Instead work towards your goals.
Wealthy Affiliate includes everything in your membership:
Core Training Material – (by text form and video)
24/7 Community Support – by live chat or 1-on-1 private messaging
Web Hosting
Keyword Research Tool
Weekly Webinars
Others Promote Wealthy Affiliate Too

I see a lot of Wealthy Affiliate scam reviews online. These reviews, are in almost all cases from people. Who have never tried Wealthy Affiliate Community.
Or they didn't like it. Some of those same Wealthy Affiliate scam reviews are still promoting Wealthy Affiliate to you.
Why would they do that? Taking an educated guess, there could be several reasons for this. For one, Wealthy Affiliate is one of the oldest affiliate marketing trainings out there which has been in business since 2005.
Many of the other affiliate marketing training programs that you see today, haven't been around as long.
Another reason this could be, is that you see all these fake Wealthy Affiliate reviews, is because, WA has a great program. And they add to their toolboxes.
Wealthy Affiliate Conclusion
Pheew…this is the longest post I've ever written in history. I hope you can make a more informed decision about Wealthy Affiliate.
Ultimately, you must decide what is best for you.
The primary reason for having a 7 day trial is to help you decide if Wealthy Affiliate is for you or not. As I mentioned earlier, it's definitely not for everyone.
Think of it as testing driving a car, before you decide to invest in a new one.
In most cases, you would test drive the car first. You want to get a feel for it and see if you like it before you sign on the dotted line.
The same is true with the Wealthy Affiliate 7 day trial membership.
They would rather you decide if it's for you or not before you spend your hard earned money and time. Wealthy Affiliate wants all their paid members to be fully delighted with what they're paying for.
So, after taking it for a test drive, that's when you can decide if you want to commit to paying for this program each month as part of your business costs.
What do you think about WA? Are there better programs out there for beginners? If you think so please let us know why.